Monday, 08 May 2017 00:00
 "Famous" Jameis Winston has proven that he can be a productive quarterback on a consistent basis. Will he take the next step toward becoming an elite quarterback? It's very likely and here is why.
It's obvious that most great quarterbacks like Aaron Rodgers or Tom Brady have weapons surrounding them. Winston had a great rookie year having only Mike Evans and a mediocre Vincent Jackson. In his second year in the league he found a red zone target, TE Cameron Brate. The two of them connected for 8 TD's. Evans got the majority of the yards downfield, but Winston used Brate heavily in the red zone.
In 2015 Winston completed 40% of his passes in the red zone. In 2016, that number rose to 45%. That number is a little scary, but 5% improvement in one year is pretty good. From inside the 10 yard line he completed 58% compared to 2015's 39% of passes. He has had some issues with interceptions which is an issue. His arm is sometimes too strong for his own good. He has no problem airing the ball out, which could lead to a huge season now that he has speed is Desean Jackson. However, I think he will start to ease up a bit and think more before he throws the ball.
With the Bucs' first round draft pick they selected TE O.J. Howard. The numbers for Howard are not all that impressive, but it is important to remember that Alabama ran the ball a lot. Howard will play a lot in the red zone in a two TE set. He is an above average blocker, so this could help buy Winston a little more time to move around or stay in the pocket which he already does well.
By far the biggest addition for Winston was Desean Jackson. DJax has averaged almost 68 yards per game in his last 3 years. That is not all that impressive, but when Winston was getting it done with 2 weapons, and now he has 3 maybe even 4 weapons, the NFC South better watch out. One of the things that I really enjoy about Winston is his ability to extend plays. He is pretty fast if he breaks out of the pocket and keeps the ball, but he likes to dance around to throw it more often. It is fun to watch, but for fantasy owners it is a big deal. He often turns what could be a sack into a 15 or 20 yard completion. His ability to keep those drives alive gets him to the red zone where he has proven he can find the paint.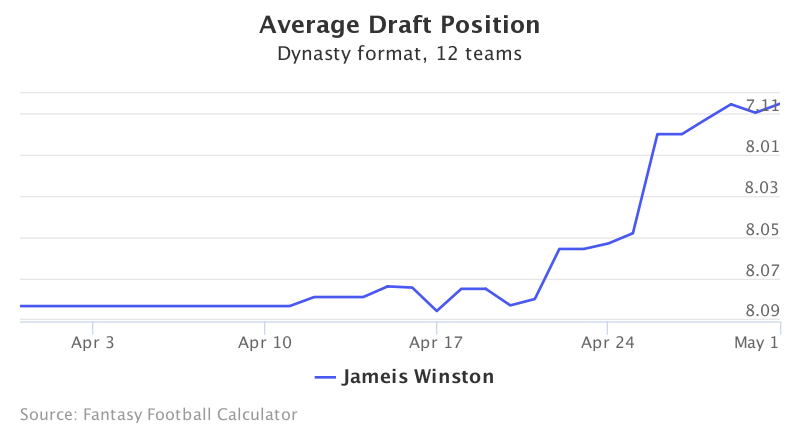 Winston has a great football I.Q. He understands his situations extremely well for being shoved straight into a starting role and only having played in the league for two years. Winston has used virtual reality training in the offseason to simulate game-like action without taking hits. These virtual snaps will help him mature and further develop. I would just say to wait to draft him until some of the elite quarterbacks leave the board. He would be great in dynasty formats.
 (ADP Charts For Jameis Winston 2017)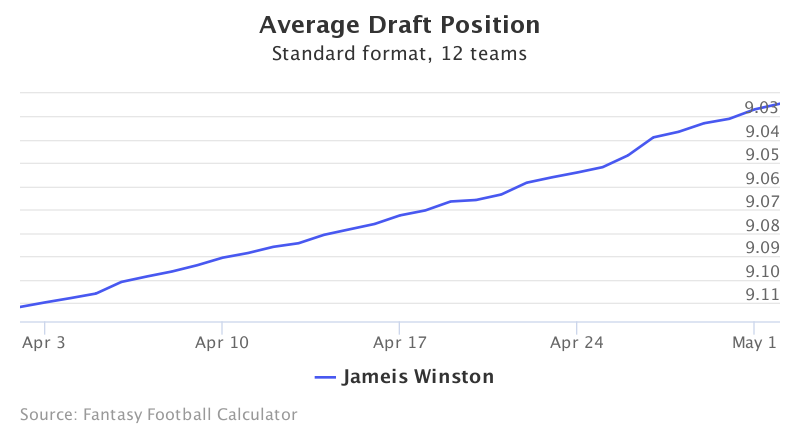 Saturday, 04 March 2017 00:00
In 2015, the Packers were missing something in their offense. The glaringly obvious fact was that Aaron Rodgers no longer had Jordy Nelson due to a knee injury. In addition, the Packers were missing a tight end that could run down the field. Richard Rodgers was not fast enough to expose holes in the defense. Receivers were unable to get open, resulting in short drives. They needed someone faster who could run routes.  
The Rams cut tight end Jared Cook before their relocation to Los Angeles. The Green Bay organization had been in consideration to trade for Cook, but now that he was a free agent, they set out to sign him.
Cook inked a one-year, 3.6-million-dollar deal, which means the organization was committed, since they usually refrain from signing big name free agents. Green Bay tends to use the draft as a means to build their team. Richard Rodgers did a great job stepping up in 2015. Who could forget that instant-classic catch that was dubbed, "The Miracle in Motown"?  
The Packers still needed some depth though. Nelson was expected to lose some speed after his return, so it was necessary that they upgraded their speed elsewhere. The tight end position needed the most speed improvement. Richard Rodgers just was not quick enough to be the full time tight end. Other teams such as the Patriots have made a living by having two good tight ends.
The offense had an extra setback when Eddie Lacy got hurt. They found a running back in Ty Montgomery, but it wasn't until week 15 that a running back scored a TD for them. The Packers went from passing 56.79 % of the time in 2015, to 62.37 % in 2016. This helped Cook see an increase in targets. This also helped him establish a connection with Aaron Rodgers. The offense will be more balanced next year, but there should be no concern about Cook's targets.
That increase moved them from 18th to 5th in the league for passing attempts. Due to Nelson and Adams playing well, the ball was distributed evenly. Although Cook isn't getting points for other receivers making plays, it makes the defense open up for bigger plays to him.
Cook started the first 2 weeks of the season, and saw 79 snaps in which his production was limited. Being new to the offense, and with Eddie Lacy getting hype for his weight loss in the offseason, Cook spent the beginning of the season blocking, or watching his targets go to Jordy Nelson. Jared saw a mere 11 targets through the first four weeks. Week 3 was short lived for Cook, as he suffered a high ankle sprain and he wouldn't be back back until week 11
Once he was back, he started to find a groove. He caught 6 passes out of 11 targets in his first week back for 105 yards and a TD. This would turn out to be his only TD of the regular season, but the work he did on 3rd downs allowed many of the drives to stay alive, which if he continues to do this, will help raise his ceiling in 2017.
Over the regular season, in which he only played 10 weeks, Cook caught 12 of 16 passes for 200 yards while facing 3rd down. This means that 53% of his yards came on 3rd down. Due to his production, the Packers were 2nd in 3rd down offense, making him valuable to Rodgers and fantasy owners.
For a big tight end, he should have had way more than one TD during the regular season. His total yards were also rather low for his career. He only had 377 yards in 10 games. Other than the injury he sustained this season, the only reason these numbers aren't better is that Aaron Rodgers has a lot of other targets.
However, he had the 3rd best average yards per catch of his career. His career highs being 15.5 (2011), 13.2 (2013), 12.6 (2016). Cook was tied for 7th among all tight ends in YAC. As stated above, the receivers around Cook helped to expose defenses so that he could exploit them. The Packers are going to have to decide how much money Cook is worth.
Cook will be 30 next season, but he is still quick, and he can still make spectacular catches. I would be careful about drafting Cook too high due to his injury history, however he will be one of the best tight end options of 2017 if he can stay healthy. Assuming he comes back to Green Bay, Cook should have a little more fantasy value next year, due to gaining Rodgers' confidence.
He has a knack for working back to the quarterback, which is important since Aaron is so good at extending plays with his feet. This ability adds another dimension to his game, giving him a value many others don't have.

Cook will have a steady season next year by being more of a touchdown threat. In his 3 playoff games this year, he had 229 yards to go along with 2 TD's. These numbers seem to be a more accurate depiction of what he will do next year, because he was settled in and consistent. Cook should be a lower TE1. It is tough to say if Gronk will be healthy, but there are guys like Kelce, Eifert, Olsen, and Reed who have proven to be successful. It depends on the league as to where Cook falls. I would keep an eye on the draft board and pick him up after those other names begin to be picked. The Packers boasted a 10-3 record in games that Jared played in, and his value will transfer into fantasy points if he stays with the Packers in 2017.