"Famous" Jameis Winston has proven that he can be a productive quarterback on a consistent basis. Will he take the next step toward becoming an elite quarterback? It's very likely and here is why.
It's obvious that most great quarterbacks like Aaron Rodgers or Tom Brady have weapons surrounding them. Winston had a great rookie year having only Mike Evans and a mediocre Vincent Jackson. In his second year in the league he found a red zone target, TE Cameron Brate. The two of them connected for 8 TD's. Evans got the majority of the yards downfield, but Winston used Brate heavily in the red zone.
In 2015 Winston completed 40% of his passes in the red zone. In 2016, that number rose to 45%. That number is a little scary, but 5% improvement in one year is pretty good. From inside the 10 yard line he completed 58% compared to 2015's 39% of passes. He has had some issues with interceptions which is an issue. His arm is sometimes too strong for his own good. He has no problem airing the ball out, which could lead to a huge season now that he has speed is Desean Jackson. However, I think he will start to ease up a bit and think more before he throws the ball.
With the Bucs' first round draft pick they selected TE O.J. Howard. The numbers for Howard are not all that impressive, but it is important to remember that Alabama ran the ball a lot. Howard will play a lot in the red zone in a two TE set. He is an above average blocker, so this could help buy Winston a little more time to move around or stay in the pocket which he already does well.
By far the biggest addition for Winston was Desean Jackson. DJax has averaged almost 68 yards per game in his last 3 years. That is not all that impressive, but when Winston was getting it done with 2 weapons, and now he has 3 maybe even 4 weapons, the NFC South better watch out. One of the things that I really enjoy about Winston is his ability to extend plays. He is pretty fast if he breaks out of the pocket and keeps the ball, but he likes to dance around to throw it more often. It is fun to watch, but for fantasy owners it is a big deal. He often turns what could be a sack into a 15 or 20 yard completion. His ability to keep those drives alive gets him to the red zone where he has proven he can find the paint.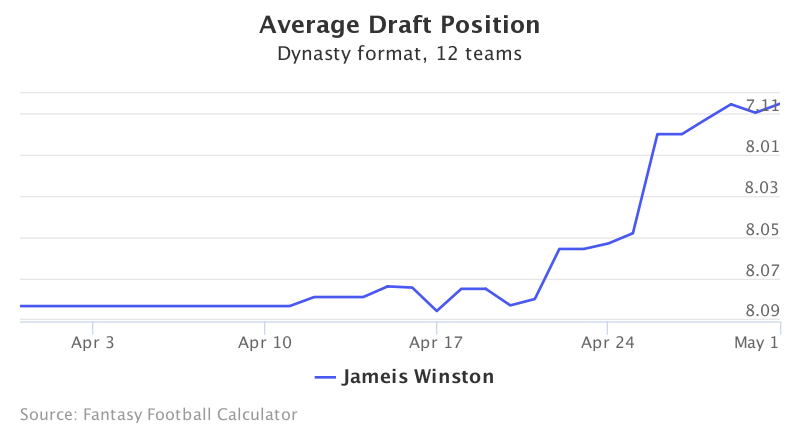 Winston has a great football I.Q. He understands his situations extremely well for being shoved straight into a starting role and only having played in the league for two years. Winston has used virtual reality training in the offseason to simulate game-like action without taking hits. These virtual snaps will help him mature and further develop. I would just say to wait to draft him until some of the elite quarterbacks leave the board. He would be great in dynasty formats.
 (ADP Charts For Jameis Winston 2017)